Early January 2016 Melissa Sweet, curator of @WePublicHealth approached me to guest edit the @WePublicHealth twitter feed 11 to 17 Jan 2016. This was after I had run a survey based on a survey on her Croakey Blog.
Read the #ScotPublicHealth survey results here (21 respondents).
Being guest editor was a great opportunity to learn from the @WePublicHealth community (over 7,500 followers, administered out of Australia, but with a global following), and to share my own ideas around Public Health and those of #ScotPublicHealth. We had just run a #ScotPublicHealth #PublicHealthHour (initial Storify here, blog to follow shortly on this page), so had a lot of ideas.
As I explained previously on this blog, my plan was to run with 4 themes:
"something old, something new, someone followed, and a hint of #ScotPublicHealth"
The Storify summary of the week is structured under these 4 headings. Read the rules of engagement on the WePublicHealth page.
So what happened?
1. Something old: I tweeted a number of stories, largely from the past century, largely based on a series I tweeted during 2015 but with some updates. My aim was to highlight the progress that had been achieved over the past century (eg the UK government of 1905 to 1915, informed by the work of Charles Booth and Seebohm Rowntree on poverty in London and York respectively). One of Booth's maps of London is shown below. A small number of governments, teams and individuals achieved huge leaps in tackling the causes and consequences of poverty, social determinants of health and inequalities in society. Their progress could inform modern day governments in the UK, Australia and elsewhere. I found that Twitter is not ideally suited for such discussions (character count too short) so I did not pursue that approach. I attempted instead to tweet on a range of topics, including health protection (eg picture of queue during New York smallpox outbreak below, 1947), health service, social determinants of health, quality improvement and regulation (eg Scotland's smoking in public health legislation 2006). Many of these stories are surprisingly relevant even now – eg with poor vaccine rates, new and familiar pathogens, the cycle of investment and cuts in the health service, including Public Health.
I had anticipated some engagement in this topic, with others tweeting their own stories, but people simply retweeted or liked the tweets instead. There may yet be engagement, using #PublicHealthArchive hashtag, and I would be happy to continue updating the Storify.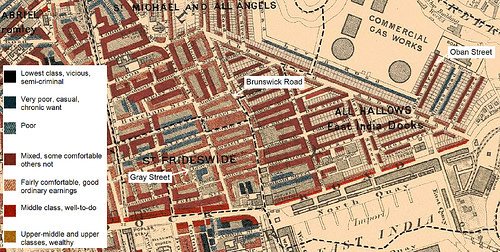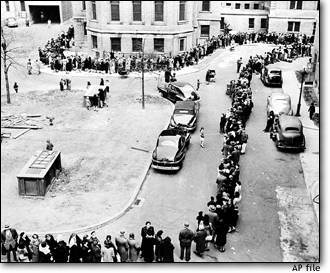 2. Something new: Again I attempted to source news from around the world, using #PublicHealthNews. While this did not happen, there was considerable engagement with some of the stories. The WePublicHealth timeline is also a goldmine of interesting and current stories. See the Storify for a selection of tweets from the different sources. As you can see from the images below there were tweets on a wide range of topics including inequalities, Sika virus, differences in legislation about smoking in cars in different parts of UK, and many more.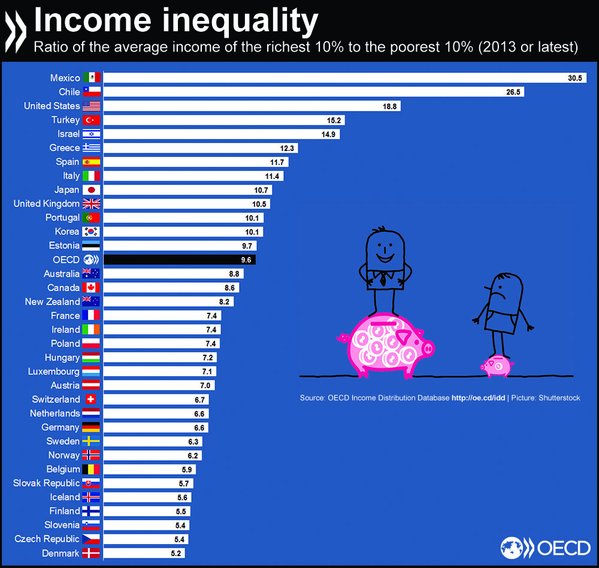 3. Someone followed: Twitter is perhaps the most accepted form of social media for professionals. One of my goals during the week was to make introductions with new people.
Here's a simple list of individuals and organisations that I listed (click on names to take you to their Twitter page):
Prof Chris Oliver, the Cycling Surgeon
Sir Michael Marmot, author of Marmot Review, president of World Medical Association.
Dr Andrew Murray, sports doctor, GP, runner
Centre for Environmental Change & Human Resilience
Center for Disease Control, US
Dr Ash Paul, Public Health doctor, and avid tweeter on news and current research
World leaders in quality improvement listed in the tags to this tweet, including IHI, Helen Bevan, Jason Leitch, and Scotland's QI Hub
Early Years Collaborative and Raising Attainment in Scotland
Prof Simon Capewell,  Public Health academic
I also attempted a global game of Public Health tag using the #PublicHealthTag hashtag. I developed this from similar examples in other areas such as #whyidoresearch (see rules on WePublicHealth page). Thanks to the following for taking part (click on image for link to tweet). However the wider chain reaction of tag and tweet did not happen.
#publichealthtag 2016 research priority -using creative methods to engage young children in child wellbeing research
These three tweets tagged or were retweeted by 11 people that were not previously followed by @WePublicHealth. They also showed priorities for 2016 and therefore, at a greater scale, would provide an opportunity for networking. Again, perhaps this is an idea that will take off in the future.
4. Some #ScotPublicHealth: The idea of linking up Public Health more closely in Scotland emerged from the Nov 2015 Scottish Public Health conference. Read more about the conference here and #ScotPublicHealth here. We had our first #PublicHealthHour on 6 Jan 2016, written up in a Storify. We also have a blog and website, though this should be viewed as a work in progress.
I shared some stories that have interested me and others over recent months. I also featured relevant moments from the #PublicHealthArchive – eg the research and wider public health work of Archie Cochrane and Jerry Morris; and major outbreaks in Scotland.
One of my major pieces of work over recent months is shown below (click image to take you to further information).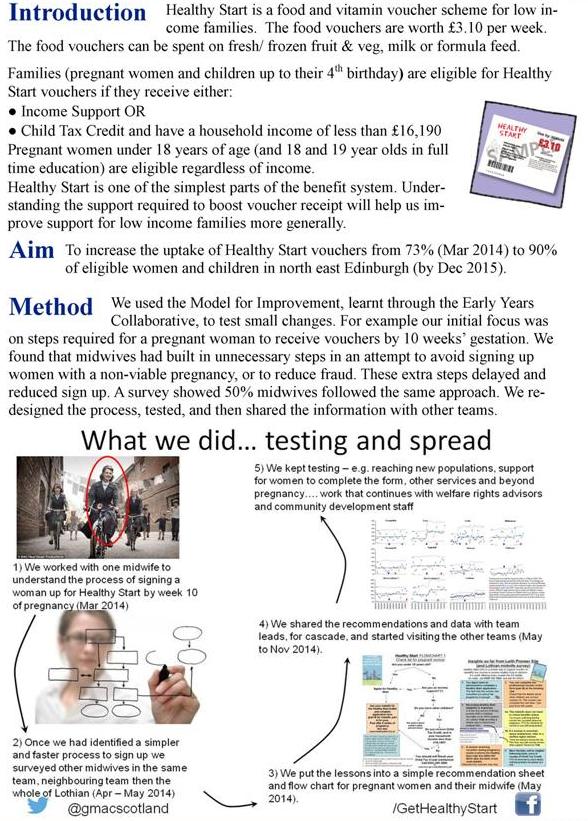 By far the biggest #ScotPublicHealth engagement for the week was for a David Miller documentary on BBC Scotland: "Car Sick". This was a short programme on cars, air pollution, physical activity and sedentary behaviour. The messages from the programme were well received, and led to the greatest number of Twitter "impressions" and engagements of any tweets during the week.
Top tweets from the week were all about this film or Cycling Surgeon.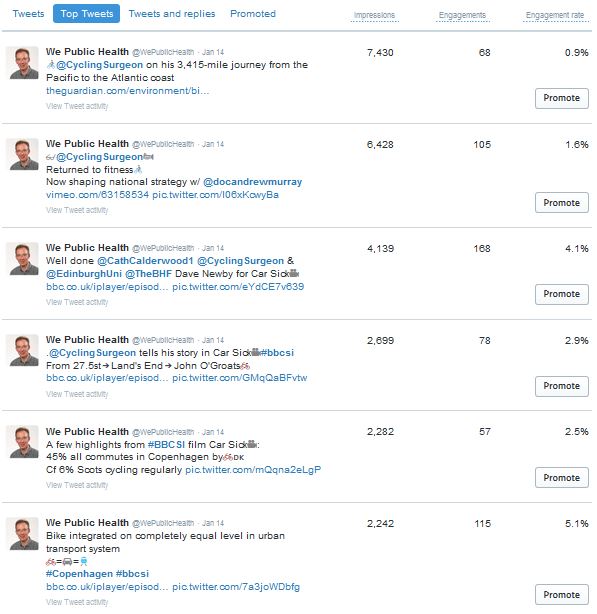 The next #ScotPublicHealth #PublicHealthHour is held 11AM-noon, 3 Feb 2016, UK time. It will feature Chris Oliver, Cycling Surgeon and will involve tweeting and a WebEx. Please sign up for emails on the blog or follow @ScotPublic for more information. You will only receive the WebEx link through that route.
Metrics: It was hard work to keep tweeting and responding in two time zones (most tweets were from Australia and UK). It was gratifying to see the increase in visibility of @WePublicHealth, the increase in engagement and followers.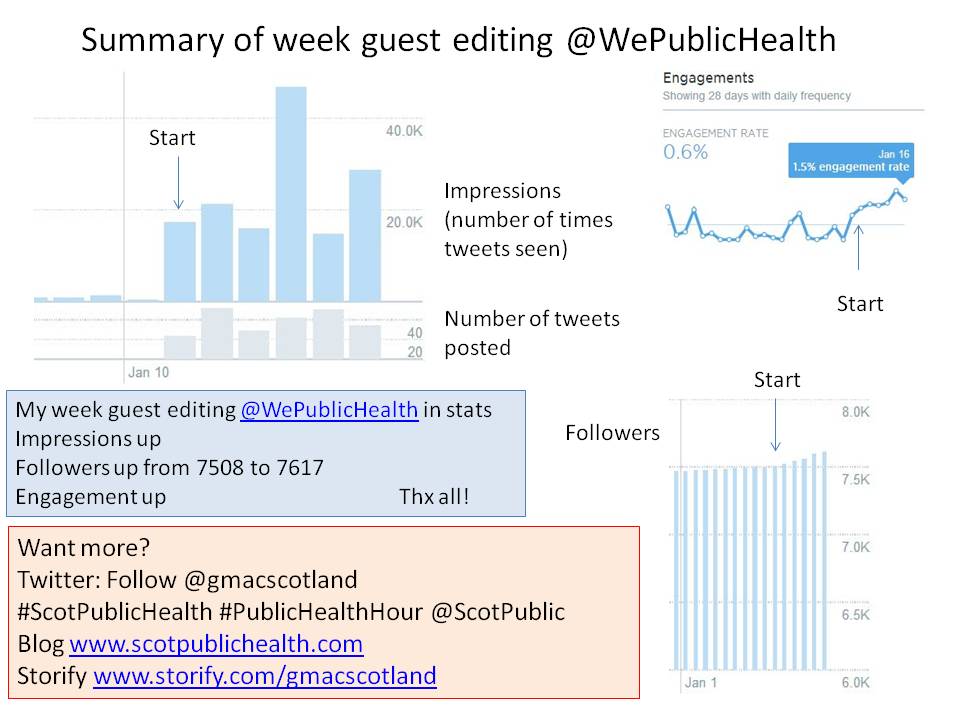 A poll, though only answered by a small number of people, suggested that the tweets over the course of the week had been well received by most. This is, however, a tiny % of total number of followers (despite a number of repeat tweets and retweets).
To conclude: The week has been busy but satisfying and well received, even though many of the main ideas did not go according to plan. The structure of something old, something new, someone followed and a little bit of #ScotPublicHealth has provided a good balance and has helped with writing up the Storify and this blog. The ideas of crowd sourcing information through use of hashtags #PublicHealthArchive, #PublicHealthNews and #PublicHealthTag seemed like a good idea at the time, but did not generate much in the way of interest. The more spontaneous material (eg for Car Sick) and news items appeared to engage well, generating a large audience for @WePublicHealth.
Thank you to all who contributed or enjoyed my week guest editing @WePublicHealth. If you're left wanting more then please follow on @gmacscotland.
Graham Mackenzie 17.1.16 
Signing off from Edinburgh, Scotland.