At the start of Dr Catherine Calderwood's first annual report as Scotland's Chief Medical Officer, she notes how fitting it is, as a practising obstetrician and gynaecologist, that the report arrived 9 months after taking post. Another 9 months on from its publication "Realistic Medicine" is still in the limelight. It has received widespread praise, including big names from medicine and public health (Dr Ben Goldacre and Sir Muir Gray), and has become shorthand for a different approach to healthcare.
We had originally planned to discuss Realistic Medicine with the Chief Medical Officer for a Public Health Hour in May, but the purdah period before the 2016 Scottish Election put paid to that. In fact the delay worked to our advantage, allowing us to invite a much larger number of participants, to hear reflections on the CMO's engagement with clinicians and patients around the report, and to include a discussion of Realistic Medicine and Public Health with an expert panel.
You can see the CMO's slides on Slideshare.
During the panel discussion, as well as taking questions on Realistic Medicine from participants, we:
received a succinct masterclass in better value healthcare, screening and population healthcare from Sir Muir Gray, a leading light in UK Public Health, pioneer of screening programmes across the life course and currently director of Better Value Healthcare
heard pertinent insights on person centred care and quality improvement from Carol Read from her career as a nurse and more recently as fellow at the NHS England Horizons team. Carol has also demonstrated innovation in developing a skincare range for Salisbury NHS Foundation Trust
had a preliminary discussion about the positive "disruptive" potential of mobile phones as a nod to both innovation and engagement.
The NHS England Horizons team, headed by Helen Bevan, was also extremely generous in providing us access to their impressive Webex setup, for which I would like to note huge thanks to Paul Woodley.
The session is documented in more detail below and a full recording of the session is available here. The main message from the session is simple – Public Health has a major contribution to Realistic Medicine, across the 6 main headings of the report.
This blog will be updated to include answers to questions raised through social media and the Webex chat box that we didn't have time to pose to the panel during the session. Running until 16 September there was also an opportunity to contribute to a Public Health focused platform on Realistic Medicine, kindly provided on a trial basis by Crowdicity, and written up here.
Resources and comments from the chatbox have been added to the end of this blog (on 28 September).
#ScotPublicHealth and the #PublicHealthHour emerged as an idea in November 2015, with the first Twitter only session in January 2016. We established the webinar format with tweeting in February 2016 with a session on physical activity and social media by Prof Chris Oliver. The #PublicHeathHour with Dr Calderwood and panel followed the same format – learning about a Public Health topic and use of new technologies in engaging professionals and public through social media.
In addition to the panel, over 116 participants joined the session (some colleagues joined the session in groups from a single computer). Participants were mainly from Scotland, mainly from the NHS, and mainly new to Public Health hour (Webex allows users to annotate images in real time as illustrated in the images below). Asked about their expectations from the session (in the Webex chatbox), the reasons were clear: to hear the CMO talk about Realistic Medicine and Public Health (see Wordle below). This icebreaker helped demonstrate the features of a webinar while also engaging and understanding our audience better.
Dr. Calderwood then took us through the main themes of the report as summarised in the following summary graphic from the report.
Each of these points were encapsulated in two patient stories:
The Realistic Medicine report provides more detail, but here are a few headlines from Dr. Calderwood's presentation:
Personalised approach to care and consent – and a reminder of the Montgomery vs Lanarkshire ruling.
"Value added" healthcare – noting that we must focus on outcomes (eg for screening).
Unwarranted variation (eg induction of labour across Scotland – 2 fold difference; hysterectomy – 5 fold difference across UK; length of stay post hip fracture op – 2 fold difference: these stark contrasts largely reflect differences in practice rather than different patient groups).
Managing risk – great work through the Scottish Patient Safety Programme: eg hospital mortality rate is coming down in Scotland and there has been a 20% reduction in stillbirth.
We also need to manage risk relating to healthcare professionals and decision making. Tired and stressed staff don't make good decisions, and tend to over-intervene. We need to care for our workforce.
Concerns about not intervening (even when that is the patient's choice) and negligence claims. Members of the public are starting to recognise over-treatment and over-investigation at the end of life. Clinicians, when asked about the treatments that they offer patients, would often make different decisions about their own treatment (eg around renal dialysis, ITU admission). The report also references the work of Atul Gawande.
Implementation of research – for example the under-use of aspirin (which is cheap and effective) while moving to more expensive drugs such as clopidogrel which are not as cost effective.
Innovation in delivery of care – not just about inventing new technologies – it can equally be about simple changes. For example junior doctors filming blood taking (phlebotomy) on their smartphones and identifying 8 redundant steps; fixing the process has reduced length of stay.
In the middle of the session I shared a "platform" for crowdsourcing ideas around Realistic Medicine and Public Health, under the six main headings of the report. Click on the image below to visit the page (active until 16 September). The phrasing and images are taken from the Realistic Medicine report, but the idea is to provide specific examples from Public Health – eg perhaps from Health Protection (variation in management between areas; potentially major impact on cases and contacts depending on approach to investigation and management) or screening.
Many thanks to Crowdicity for providing access to this platform.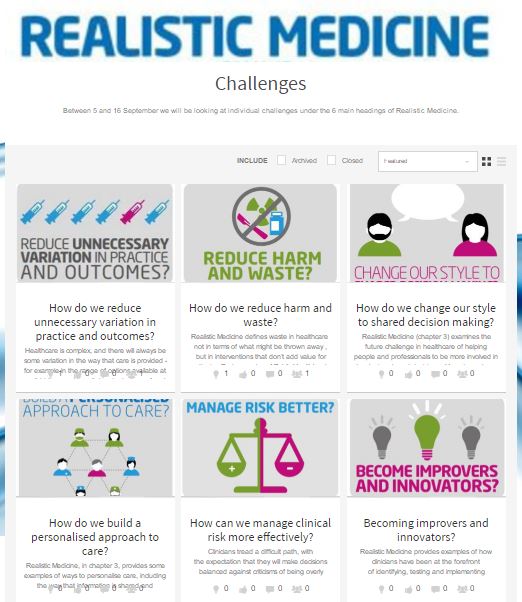 The second half of the webinar took questions and comments from participants and a website called Slido, to pose questions to the panel.
The first question came from Dr Peter Gordon: "can the panel comment on the inevitable tension between improvement work and over-medicalisation".
Sir Muir felt that there isn't a tension – we need to be clear about our objectives, and ensure that our care delivers high value for individuals (eg for screening).
Dr Calderwood talked about moving away from "doctor knows best", noting differences in expectations of doctors and patients about their care. Doctors thought the patients' main goal would be "to live longer"; however patients talked about being "symptom free and time with their families". An open and honest conversation minimises risk of over medicalisation. Doctors see themselves as "fixers", and often this is appropriate, but it isn't always what is required. The CMO recounted feedback about Realistic Medicine from a GP who said that he had been practising Realistic Medicine for decades, but "under the radar". The GP welcomed the fact that the report gives him and colleagues permission to practise person centred care.
Carol Read noted the importance of listening to patients. We should challenge what we are trying to achieve with quality improvement, focusing on outcomes rather than process. She finished with a reminder that this is not about cost cutting.
The second question was received anonymously on Slido, and reflected a lot of comments on Twitter and the Webex chat bar: "If Realistic Public Health existed, how would it differ from Realistic Medicine"
Sir Muir reponded first, as a Public Health professional. He noted that the term "Population healthcare" can be more useful than Public Health – which some clinicians perceive about being about "drains"! Realistic Medicine allows Public Health to engage with clinicians – have to listen to individuals but with population as denominator, rather than just those who engage with services. Also need to remain watchful – eg purpose of our service may change – and balance of prevention and treatment may change as other circumstances change.
The CMO noted that there are more similarities than differences. She highlighted issues around health literacy eg around screening leaflets and medicine information: needs differ so we must personalise approach. Do we have the right people accessing services? All 6 headings in Realistic Medicine could apply equally to Public Health: for example the variation in how screening and health protection is practised across Scotland.
Carol Read noted that we are all members of the public and have a lot to learn as staff. Realistic Medicine highlights the importance of shared decision making, and will require shifting of resources, both of which are directly relevant to Public Health.
The third question continued the theme of shared decision making, again posted anonymously on Slido: "How can 'shared decision making' become a reality in Mental Health matters when declarations of 'incapacity' can happen when people resist psychiatric drugging".
Dr Calderwood noted the legal dimension to this scenario. Experience of families and patients would suggest that we can do things better. Families become experts. A common theme of "lack of communication with family and individual" emerges frequently in serious case reviews.
The final question was opened up to participants, illustrating another feature of a Webex call (can monitor questions, and "raised hands" from the participants panel, identifying timing and priority).
Mark Hazelwood asked: "Realistic Medicine's focus on the quality of care experience at end of life is very welcome. Can we get a robust national survey to evidence how we are doing, as per Maternity?" Mr Hazelwood, CEO of the Scottish Partnership for Palliative Care, also noted that while huge progress has been made in palliative care, there has also been suspicion – eg media coverage of the Liverpool Care Pathway. We need evidence and measurement to support the case for our approach.
The CMO agreed and noted that success is not just about survival, but noted that there are still questions about what we should be measuring instead. Maternity already has Patient Reported Outcome Measures (PROMS). Dr Calderwood is working with the International Consortium for Health Outcomes Measurement (ICHOM) with the aim of developing such indicators over next 18 months.
Finding suitable measures is, however, a challenge when care is increasingly individualised.
Sir Muir talked about a planned book, subtitled "how to avoid a bad death". He would be very happy to talk to the press about end of life care (giving an honorary mention to the veteran Scottish publication the Sunday Post) and noted that this is the kind of conversation that should be going on in the front room of homes across the country. Everybody over age of 50 should have an advanced written plan.
Carol Read drew on experience from ward/ community and the What Matters to You campaign, agreeing that there should be engagement well before, but also during the episode of care.
We finished with the encouraging news from Dr. Calderwood that Realistic Medicine will be included in the medical undergraduate curriculum in all five medical schools in Scotland.
In the hours leading up to the Public Health Hour the hashtag #RealisticMedicine received 200k impressions; over the course of the day the figure reached 270k impressions (from Symplur site). The FollowTheHashtag site showed Twitter activity across the world over the past week.

The next major #ScotPublicHealth activity is at the Scottish Public Health conference, Dunblane, 27 and 28 Oct, where #ScotPublicHealth will be used as the conference hashtag.
You can follow @ScotPublic on Twitter, and sign up for blog updates.
Graham Mackenzie (@gmacscotland on Twitter)
Consultant in Public Health
8 September 2016
Further resources from chatbox
Selected general points about Realistic Medicine from the chatbox are listed below:
Yvonne Kerr
"in a time of reduced resources, this is a difficult one. On the face of it – absolutely, but do our finances allow??"

This was in response to a question posed by Carol Read in the chatbox: "What do we think of the choices described in the story [pigeon fancier] – How can we work with shared decision making?"

alex stirling
NHS Lanarkshire have been looking about over investigation and using data to look at variation
Mark Hazelwood
Lots of avoidable harms associated lack of acknowledgement of mortality at end of life – over treatment yes, but also missed opportunities to say "thank you" or "I love you"
Janet Pooley
Practitioners do need more visibility so that they are aware that they are an outlier
valere white
I got my book group to read Being Mortal. A very interesting discussion for many people who would never have picked this book up. If your a member of a bookgroup  I would highly recommend this and spread the thinking.
alex stirling
Agree Graham – how we frame the question – the language we use – the way we see the problem
dianne shaw
encourage skill in "listen to hear, not listen to speak" (advise, consult tell, sell etc)
Janet Pooley
Patients don't understand risk at all well – sometimes makes it difficult for patients to make decisions
alastair philp
@Janet – risk of what? What are the criteria we think are important? may be willing to accept more risk of one thing if gives more chance of something we feel is more important?
susan laidlaw
I agree Janet – I think we could be much better in communicating risk and enabling people to weigh up the risks for their circumstances. Do healthcare professionals always understand risk and what risk / risks mean to individuals?
Yvonne Kerr
Is also essential (in certain circumstances) to listen to views of family/significant others etc, also use of advocates etc.  Particularly important when looking at care of children and elderly.
Diane Graham
Changing the culture of how we ask, deeply listen then act will improve how we inform people of the risks to allow them to make good decisions
Yvonne Kerr
I think we have to look at accepting more risk of one thing if it benefits something else – even if this goes against all medical 'knowledge'
Yvonne Kerr
Impact of 'white coat syndrome'
Philip Conaglen
Realistic Public Health incliudes Public Health Medicine but is about a great deal more than that
Diane Graham
We recently heard from the mother of a young man on a depot who was fighting with his care providers to move from injection to oral meds.  The consultant listened to what the young man wanted and why and chose to support him to test the approach. Reduced family stress and worked really well despite fears of clinical team
Diane Graham
move to narrative (qualitative) questioning rather than quantitative surveys to determine measures that really matter
Yvonne Kerr
Having been through this with a parent, I recognise that realistic medicine was the approach taken by the medical professionals I was involved with. A difficult one for them, but they absolutely respected my parent, and the wider family views. Although the end was still painful, it was much more peaceful for all of us because it was taking place in the way we had discussed and agreed on, some solace at a difficult time